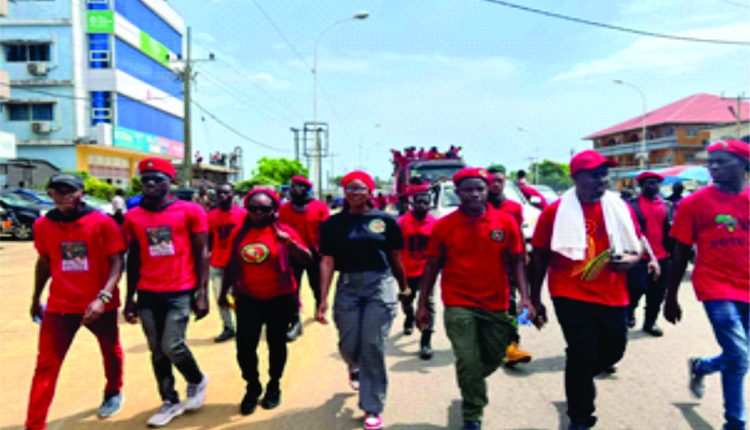 By Sam Mulbah
The Economic Freedom Fighters of Liberia (EFFL), rallies more voters to support the Unity Party Alliance of former Vice President, Joseph Nyumah Boakai.
The EFFL team, along with its leader Emmanuel Gonquoi, launched an awareness parade on Tuesday November 7, 2023, from Duport Road in Paynesville to Monrovia, calling on Liberians to retire the George Manneh Weah-led Coalition for Democratic Change administration through the pending presidential run-off.
The EFFL believes that the Weah administration, for the past five years at the presidency, has performed dismally in the quest to develop the lives of the citizens and the country at large, as promised by them during the 2017 presidential election campaign.
At the front of the National Elections Commission headquarters in Sinkor, Gonquoi spoke to scores of journalists, calling on the Commission to proceed the best way with the pending run-off, in order to avoid resistance of the will of the majority of the Liberian people.
He said the citizens are resolved to make the regime of the day a one-term administration, and will terminate the contract of the administration given them back in 2017, at the November 14 polls. "Gone are those days that people will sit here and rig elections in favor of a particular candidate at an electoral process, which undermines the principles of democracy."
Gonquoi reiterated that the EFFL's brief stop at the NEC headquarters was to send a caveat to the commissioners, urging them to maintain their credibility in the run-off, because the peace of the country depends on them.
With no evidence to substantiate his claims, the EFFL boss said intelligence gathered by the EFFL revealed that the commissioners are in conversation with senior officials of government to play with the run-off, so that the incumbent can be declared as winner of the run-off.
"We want to be clear to the Commission that we will not be responsible for anyone who thinks that playing with the result of the run-off is in the best interest of the country. Anybody who goes against the will of the people will be dealt with by any means, because that person is undermining democracy and is surely an enemy of the State," he said.