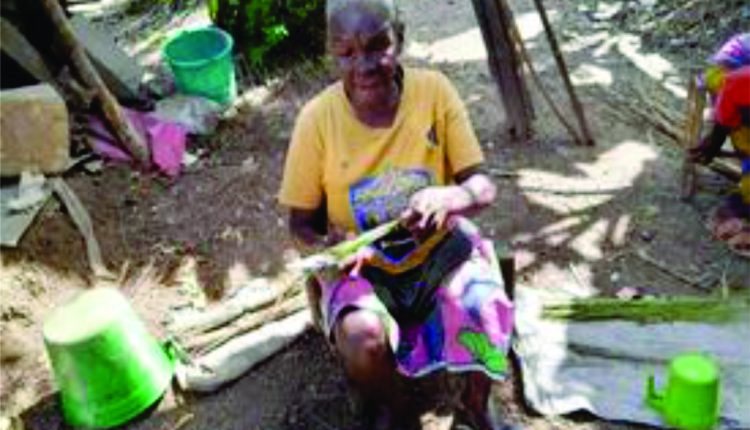 A visually impaired lady is appealing to government, humanitarians and philanthropists, as well as non-governmental organizations, to come to her aid.
Madam Yonkonjay Karngar, 73-year old residing in Grand Bassa County, is said to be in dire need of food, shelter, financial and medical care/assistance, among others, as a result of her condition.
Explaining her ordeal in Bassa, Madam Karngar stated that her two children and husband pre-deceased leaving her alone to fend for herself on a daily basis.
The 73-year old woman also disclosed that her legs are heavy, making it difficult for her to walk, while her hands are also weak, which makes it difficult to even prepare a meal for herself.
Madam Karngar lamented that aside from the above mentioned, she is also suffering from severe pains, coupled with chronic cold and joints pain, leaving her unable to get treatment due to lack finance.
"I am really suffering o my people, and pray that somebody should come and help me because it not easy on me. As we speak, I don't even have a conducive shelter, neither a good restroom to even attend to nature," she lamented.
According to her, since she got blind, members of her family, including her two children and husband, all abandoned her about seven years ago, leaving her very vulnerable in the community and society at large.
She maintained that her only means of survival is using the palm leaves to fix broom, which she normally sells L$30 every Saturday at the Buchanan market as a means of survival.
Madam Karngar intoned, "I fix broom and sell it every Saturday just for survival. My hands are weak, so I fix only one every day. Whole day I fix only one and sell it for L$30, and when it is sold, I keep the money, fix another one the next day, sell and buy food to eat."
Meanwhile, the 73-year visually impaired woman frustratingly cried that she had to stopped fixing the broom for some time due to her worsening health condition, and is now forced to shelter at the home of the Christian Association of the Blind in Bassa.
Madam Kanrgar, who at this stage of her life now begs for handouts to survive, is pleading to the government, local and international NGOs, as well as other philanthropists, to urgently come to her aid, as she is on the verge of dying.