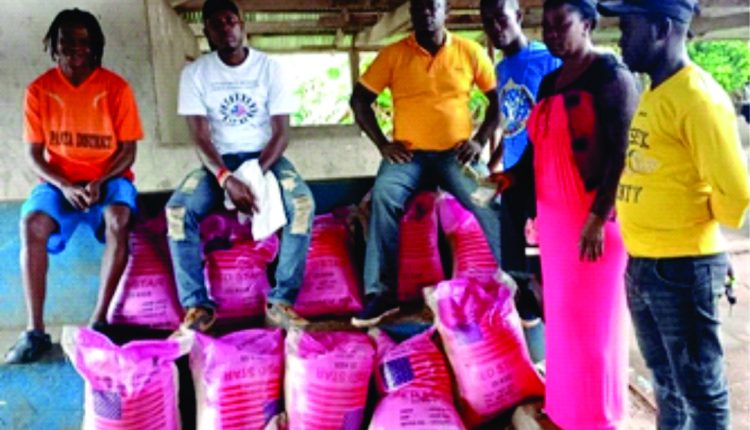 Rema Fawaz, Vertu Football Club Chief Executive Officer (CEO) and President, has made available twenty thousand Liberian Dollars, along with 15 bags of 25kg rice, to the two champions and two finalists of the just-ended Bong County District League, as a means of commending them.
Panta District defeated Jorquelleh 1 one-nil in the grand finale, to win the competition for the first time ever, despite being given three red cards, while their ladies lost to Jorquelleh 2 in the kickball category.
Fawaz, a daughter of Bong, who hails from Garmu, Panta District, and currently serves as Co-Chair on Resource Mobilization at the level of the Bong County Sports Steering Committee, presented the cash and rice to Panta boys and girls for setting the record of clinching the football trophy for the first time, under the guidance of Carlos Senior Pay Kollie, while their kickball team finished as runners-up.
Presenting the items recently in Belemu, Panta District, a team of officials from Vertu FC, headed by Jerry Kollie, extolled the district on behalf of Rema Fawaz, for emerging as Bong 2023 District League Champions.
Jerry Kollie explained that they were representatives from Vertu tasked to do the presentation on behalf of Rema Fawaz, as a way of congratulating Panta for winning the Bong County District League for the first time in history.
Panta District Commissioner, Torhn N. Konisear, and Youth President, Daryan M. Quenisear, in the presence of the head coach, captain, and some players, took delivery of the cash and rice donation and thanked Rema Fawaz for her contributions to sports in the district, and Bong by extension.
Commissioner Konisear also assured the people of Panta that her district is doing everything to retain the trophy in next year's edition of the competition.
Madam Konisear said, "We want to extend our thanks and appreciation to Rema. We are so happy, it is not surprising. We are talking about 10 bags of rice and cash, it is a lot. This trophy is not going back just now, we will support them to maintain it."