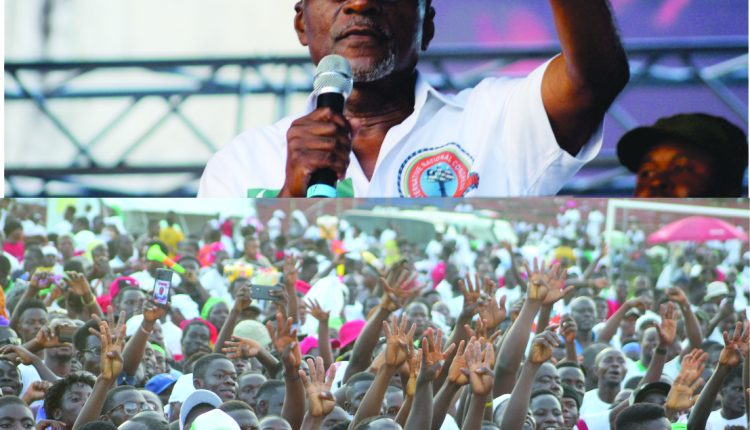 By Bill W. Cooper
With just over a week to the October 10 Elections, the Standard Bearer of the Collaborating Political Parties (CPP), Alexander Cummings, and supporters yesterday, successfully concluded its campaign rally in Montserrado, stunning supporters and igniting enthusiasm among citizens.
The event, which attracted a multitude of eager partisans, served as a catalyst for Cummings to urge the populace to exercise their democratic rights by turning out at the polls on October 10 to ensure a CPP victory.
With an inspiring message Sunday, October 1, 2023, at the ATS in Monrovia, Cummings captivated the crowd by reiterating his vision of a prosperous and equitable Liberia, highlighting the crucial importance of political participation in shaping the nation's future.
Standing before a packed stadium of hopeful Liberians, the CPP leader emphasized that the October 10 election would be an opportunity for citizens to either manifest their aspirations and effect transformative change, or remain backward as a country for another six years.
He also underscored the CPP's commitment to good governance and accountability, vowing to implement stringent measures to combat corruption if elected, promising that a Cummings-led administration would prioritize the welfare of ordinary Liberians by creating a level playing field for economic progress and social justice.
Cummings also addressed the electrifying issue of youth empowerment, acknowledging the potential of Liberian youths to drive the nation forward, and at the same time, laid out a comprehensive plan for investment in education and skills training, advocating for better employment opportunities and entrepreneurship support for young Liberians.
Meanwhile, the rally did not shy away from acknowledging the economic challenges that Liberia currently faces, as Cummings also outlined a comprehensive economic strategy that emphasized investment in key sectors such as agriculture, infrastructure, and manufacturing.
Recognizing the immense potential of these sectors to stimulate job creation and reduce reliance on imports, he vowed to diligently pursue policies aimed at boosting local industries and attracting direct foreign investment.
Cummings at the same time seized the moment to rally supporters, calling on them to be ambassadors of hope, actively engaging with their communities and persuading undecided voters to join their cause.