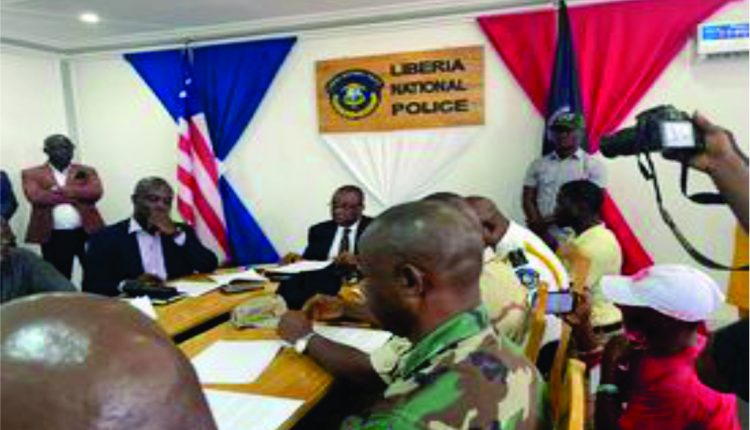 Several persons believed to be perpetrators in the Foya District, Lofa County violence have been arrested and placed into custody in Voinjama, where they are undergoing interrogation at the hands of state security about what happened on Friday, September 29.
Justice Minister and Joint Security Chairman, Frank Musa Dean, flanked by Army Chief of Staff, Prince Charles Johnson, III; Police Director, Patrick Sudue; Immigration Commissioner, Robert Budy; and Fire Service Director, Robert Dixon, among others, said several persons have been arrested and are undergoing interrogation in Voinjama.
In one accord, they told the news conference that the military would serve as the backup or supportive arm to the paramilitary, mainly the police, wherever deemed necessary; where the police is overwhelmed, the military will come in for assistance.
The arrest followed last Friday, September 29's violence, allegedly between supporters or followers of the two rival political parties, the Coalition for Democratic Change (CDC) and Unity Party (UP), which took away lives and caused the destruction of properties.
According to the Justice Ministry, the state security personnel were deployed last week and investigation into what went wrong in Foya District began immediately, as anxiety mounted, but the arrests made are sure to allay doubts.
The burials of those killed from the violence are in sight, as their bereaved family members have begun making arrangements.
Both the local and international community, including the United Nations, the Economic Community of West African States (ECOWAS), the United States Government, European Union, African Union, and Liberian Crusaders for Peace, as well as the Association of Liberian Journalists in the Americas (ALJA), among others, condemned the violence and called for an impartial investigation to bring to book whosoever was responsible.
Meanwhile, President George Weah, who is in the Southeast region of the country on campaign tour, also condemned the incident and called for an in-depth investigation, thereby mandating the Justice Ministry to probe what happened in Foya District, Lofa County.