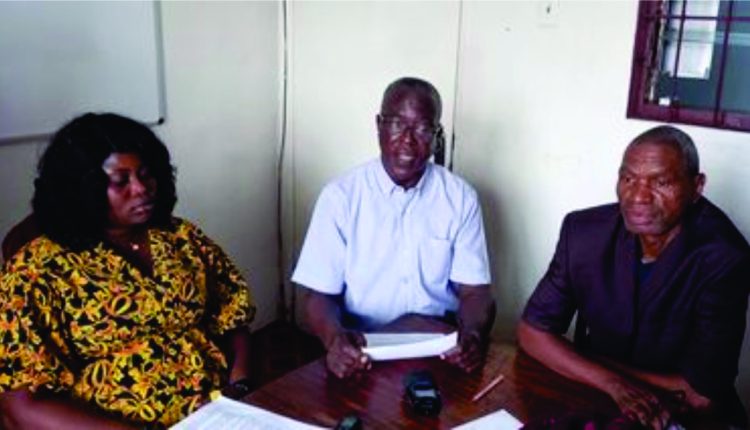 By Bill W. Cooper
The Rural Human Rights Activists Program (RHRAP) is calling on the National Elections Commission (NEC) and partners to fund Civil Society Organizations (CSOs) to quickly engage in awareness activities, informing Liberians on how to vote in the run-off.
This, the RHRAP said, would help to reduce the huge percentage of invalid votes across the country, during the run-off between President George Weah and former vice president Joseph Boakai, as observed during the first round of the country's Presidential and Legislative Elections.
The NEC, through its Chairperson, Davidetta Browne-Lansanah, announcing the general elections final results Tuesday, announced that the country recorded a record of 114,639 invalid votes across Liberia.
But admitting that this huge number has raised concerns amongst Liberians, RHRAP, through its Executive Director, Lorma Baysah, attributed the situation to adequate education and awareness, which, he said, was not prioritized by the NEC.
Baysah, at the same time, called on the NEC to improve in speedily providing results to the Liberian people from the run-off, disclosing that the delay in providing the results from the October 10 polls contributed to spread of disinformation, which increased tensions between all parties.
He stressed, "The NEC should also include the Electoral District, Precincts, and Polling place Codes in the results that will be announced during the runoff, which will clearly show where the votes were received by each candidate."
"With the bulk of results that were announced, it makes it difficult to compare the results quickly and easily with the tally sheets provided to the parties in the elections, and said action can cause misunderstanding and confusion," Baysah intoned.
According to him, it is also key that all media outlets engage in meaningful media activities that seek to combat disinformation and violence, as well as inciteful messages, to reduce the tension ahead of the run-off.
He also recommended to the international community to increase its speed in adequately engaging all political players, including the incumbent government, to do those things that are right that will maintain Liberia's democracy.
Baysah emphasized, "With huge support at various levels, including funding from the international community, Liberia is gradually moving towards stability with huge democratic gains."
"So, do not sit for Liberia's democracy to retrogress. This is a critical period for Liberia's democracy and you must act now before it is too late, and it is also important that all Liberians, including political parties, be reminded that elections are not war.
"And as such, we are all under obligation to fully respect the rule of law, fundamental human rights, and democratic values. Thankfully, the U.S. has assured that sanctions await those that are involved with the obstruction of Liberia's democracy, which is fine," he added.
The RHRAP also stated that despite of some serious violence instances with loss of lives, the county's elections was considered peaceful, thanking Liberians for peacefully conducting themselves during the conduct of the elections.
The RHRAP ED however asserted, "It is also our hope that those instances of violence will be urgently investigated and culprits will be brought to justice, and we will also like to thank the NEC for their leadership roles in ensuring the peaceful conduct Liberia's elections."