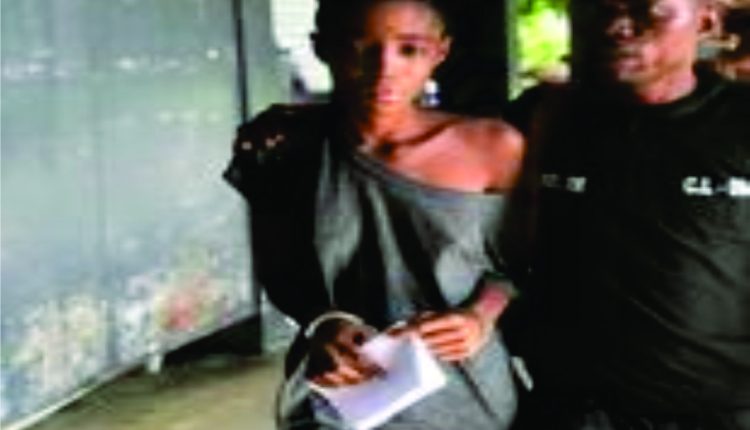 By Grace Q. Bryant & Bill W. Cooper
Angel Success Watson, a 16-year-old sex worker, is currently at the Monrovia Central Prison for allegedly murdering Ansu Kormah, alias "Melting Kate" in Euro Bank Building on Broad and Warren Streets.
The defendant is charged with the crime of Murder which is a violation of Chapter 14, Section 14.1 of the Liberian revised penal code.
According to the Police findings, the deceased was seen on the premises of the Euro Bank Building around the hour of 2:30pm on July 29, where he met an argument ongoing between Officer Mike B. Thompson of the Monrovia City Police and another person, over phone charging business.
The findings furthered that while on the ground floor of the building, where Ma. Fatu business is situated, the victim encountered defendant Watson, who was sitting with some customers on the same floor where her boyfriend, Francis Kollie, was selling for his mother.
The findings established that Kormah have had intimate cuddles with the defendant and offered her a drink, but his action brought about verbal altercation between him and Thompson, the City Police Officer, in which said exchange lasted for several minutes, until the intervention of Lawrence Kromah of the Liberia Immigration Services (LIS), and his girlfriend, Patience Togbah.
On said night, the deceased's play daughter, along with her friends, was at a place called Happy Club Entertainment Center at the former Pepper Bush Night Club on Warrant Street, opposite the Ministry of Transport, entertaining themselves, and some minutes after midnight, one of the deceased's play daughter's friends returned to the building to sleep.
In the course of the same morning at about 4:00 am after the deceased Kormah had an initial encounter with the defendant, he further contacted her to engage into commercial sex with her, thus causing her to contact Emmanuel Mends-Cole to give her access to his accommodation to be used for the said purpose.
The room was however provided to her on claims that the defendant pays L$1,000 to enable him buy spark (take the narcotic called kush), a request to which she agreed upon; only early morning hours, to discover Ansu Kormah lying at the front of the building on Broad Street.
Mends-Cole confirmed to the investigation that he indeed gave his room key, which is situated on the second floor of the building, to the defendant, and later went to smoke with his friends on Johnson Street; while sitting, they got information that someone had fallen from the building.
Upon Mends-Cole's arrival at the scene, he noticed that it was the same fellow that the defendant took upstairs to his room. When he ran upstairs to locate the defendant, he noticed that the room door was wide open, with the key in the lock but was abandoned, and that the defendant was nowhere to be seen.
At about 9:00 the same morning, Mends-Cole came across the defendant who then denied the incident with claim that she and the deceased never did anything.
After it was acknowledged that the victim had died at the JFK hospital on Sunday morning, the police began making random arrests at the Euro Bank Building; the defendant who was there at the time doing some laundry with her boyfriend Francis Kollie, who are now both arrested, fled the scene and was not seen until after about two months and three weeks.
Meanwhile, prostitution, is the exchange of sexual services for money between opposite sexes and though believed to be illegal, this has been an opened societal activity with no winners in Liberia.
In recent years, concerns have amplified regarding its potential impact on national security, with some victims attributing their decision to poverty and unemployment, which is a cause for concern for Liberia's national security.
Prostitution is very common and rampant in Liberia – the act takes place openly on street corners in Monrovia and many other cities, involving teenage and adolescent girls, as well as young women between the ages of 20 and 30 with men who are prominent in society to those referred to as zogoes.
It has been observed by our reporter that during the night hours, these young ladies are seen posted at entertainment centers, attracting and calling the attention of men; some of whom park their expensive cars wearing wedding bands and willingly carrying out the transaction in full glare.
Like for example, the Paynesville belt, at night time, while some residents are asleep, an army of teenage girls as young as 13, sets out to work as underage prostitutes, charging little amounts to older men who often abuse them.
At local places, they sometimes charge L$250 per round of ejaculation while in other places, they charge US$5. If the man wishes to spend the whole night, they both negotiate the price; it could be US$10, 15, or 20.
Some of them spoken to, attributed their decision to poverty, lack of opportunity, peer pressure, drugs, as well as being self-reared.
Saybah, Morrislyn, Lusu, Tracy (not their real names), and other teenagers, often find shelter at some grave sites; teenage prostitution is believed to be the result of the 14 years of civil war that made children adults to fend for themselves at tender ages while others were abused as a result of displacement.
In a terrifying revelation, Saybah, sitting at the Duport Road Cemetery, lamented that she and other friends normally spend their nights in graveyards, in order to keep themselves safe, after being used all night.
Unlike Saybah and her friends, other younger girls who don't have any help to turn to, spend their nights roaming the streets, from one entertainment center to another, while some of them are being uncontrollably drugged and abused, leaving them exposed to health issues like AIDS and TB.
"I have been sleeping here in the graveyard for years now. There is no other option because both my parents died and all of my family members have abandoned me and are refusing to help me. As we speak, there is nobody to protect or look after me. It is safe in here, in the tombs, where nobody dares come to hurt us because our male friends are protecting us, even though they sometimes forcefully sleep with us," she said.
Saybah, 15, said she joined the street as a result of peer pressure, following the death of both parents, maintaining, "I was introduced into this life by my friend and been working as a prostitute for over five years now."
"I am not happy at all; I really want to leave this life because every day, over 10 older men can sleep with me, but I have nobody to turn to," she added.
Like Saybah, Tracy, whom our reporter also encountered, started by saying she has been, and is, lucky that she has not gotten pregnant or sick like some of her friends, saying it is all happening as a result of constant prayers before falling asleep.
"I can smoke cocaine to take away the pain while praying every single day that I can one day leave my grave and perhaps even go to school and find a man of my own to build my own family," she said.
According to a report, the practice of paid underage sex started long back before the civil war and even got worse after war, but has now escalated more than ever before, becoming as a national security threat.
Even though the act dehumanizes and devalues womanhood, and takes away the pride of a woman, many men are also contributing factors to this illegal act because there has never been a proven case where young women would go into prostitution with her gender least to speak of having such impact.