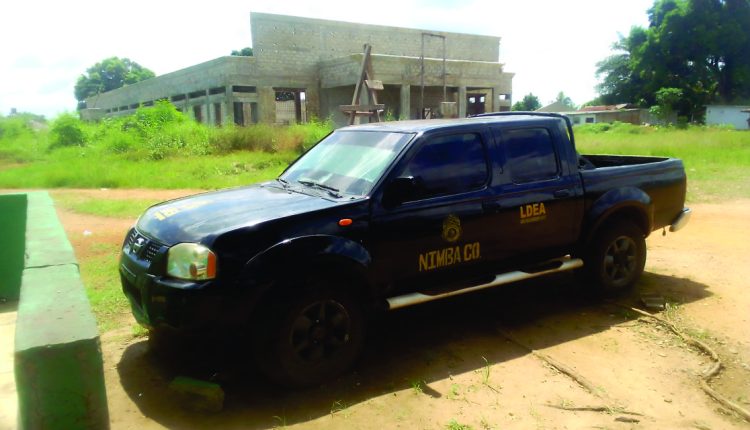 By Solomon T. Gaye
The lack of a vehicle is reportedly hindering the smooth running of the Liberia Drug Enforcement Agency operation in Nimba County, senior LDEA officers have disclosed.
Speaking to this Paper in Ganta, a senior security officer working with the Ministry of Justice, said zogoes are gradually taking over some communities in Ganta due to lack of vehicle.
According to the senior LDEA officer, the 2015 assigned vehicle is completely damaged and parked at the LDEA sub-office in Ganta.
"We often use motorcycles to transport drugs suspects to court or the central prison in Sanniquellie," the officer revealed.
At the beginning of November 2023, the LDEA raided ghettos at various communities, arrested 17 drugs suspects, and transported them to the central prison in Sanniquellie over motorcycles, after being found guilty by the magisterial court.
Reports gathered by this Paper disclosed that since 2015, the Liberia Drug Enforcement Agency has been operating in Nimba without a stable vehicle or operation funds.
Speaking on the same issue, Elder Willie Saye frowned at the government's alleged failure to strengthen the LDEA with a vehicle to fight drug abuse and drug-related issues.
According to the elder, the fight against drugs still remains a serious challenge to the State security, and if nothing is done to empower the LDEA, it will lead to drug dealers taking over the country.
Speaking on behalf of the student population, Beatrice Dahn called on the government to double the fight against drugs by providing a vehicle to the LDEA in Nimba County.
When this paper contacted the LDEA sub office in Ganta, County Commander, Thomas Saye, echoed the general concern, that the lack of mobility is a hindrance to the smooth operation of the agency.
"Nimba has nine electoral districts, and we don't have a single vehicle to transport drug suspects to court; sometimes, we use motorbikes to take them to prison," LDEA Commander Thomas Saye lamented.