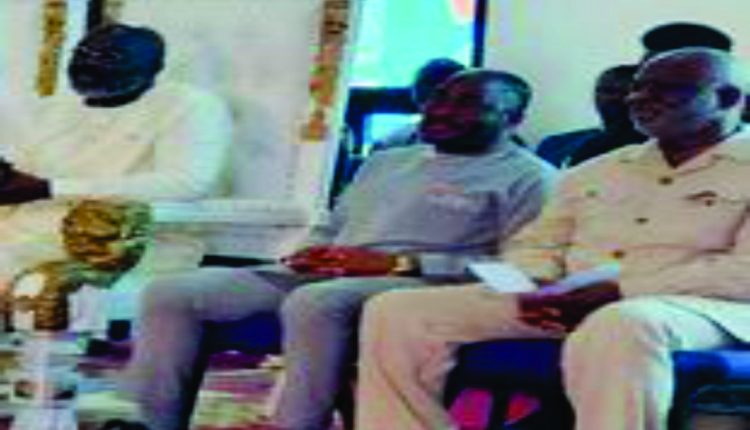 By Bill W. Cooper
A day after a photo emerged of him at the Forkay Klon Jlaleh Church, Brownie J. Samukai, clarified that his appearance at the church with President George M. Weah, had no political link.
The Forkay Klon Jlaleh Church, situated opposite the Baptist Seminary on the Roberts International Airport (RIA) Highway, was built by the Liberian leader as his place to worship and glorify God.
Early Monday morning, a group photo, in which President Weah and Samukai were sitting side by side in the church, surfaced on various social media platforms, raising curiosity in the minds of many.
Some political pundits and citizens, who responded to the photo, believe that the former Defense Minister is now striking a political deal to join the re-election bid of the Liberian Leader in the ensuing run-off election.
Reacting to these claims via a mobile phone call on OK FM in Monrovia, Samukai clarified that he was simply responding to an invitation from President Weah.
He described the Liberian leader as a friend, adding that his attendance at the church service was not an endorsement of Weah's re-election ahead of the November 14, 2023 presidential run-off election, as perceived by others.
"I want to make it clear that my attendance at the Forkay Klon Church was not a political or religious endorsement, and I was simply responding to an invitation from a friend who is a member of the church," he reiterated.
Samukai explained that as a Christian, he believes in the freedom of worship and he respects the beliefs of others, and stressed that he has no political ambition at the moment.
According to him, his attendance at the church was purely personal and not an endorsement of the Coalition for Democratic Change's Standard Bearer, and said, "I have no political ambitions at the moment and I am focused on my personal life and my family."