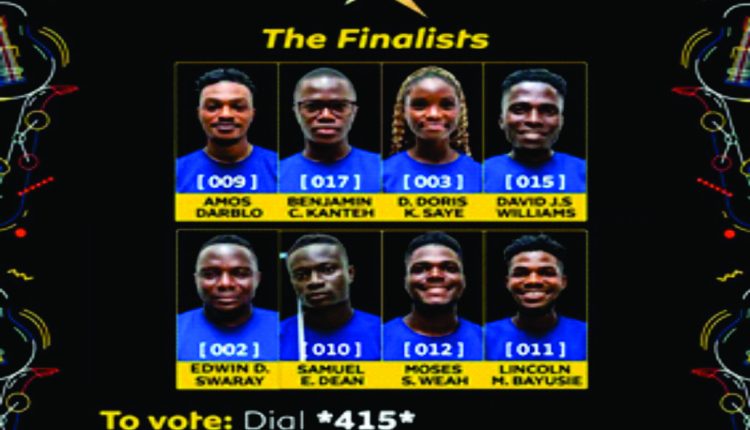 The excitement is building for the Grand Finale of MTN Yéllo Star, the highly anticipated third edition of the under-35 singing competition is set for tomorrow, Saturday, October 28, 2023 at 6pm.
This extraordinary journey, spanning over two exhilarating months, is aimed at unearthing exceptional vocalists under the age of 35 and providing them with an immersive education in the realm of music while offering a national stage to showcase their extraordinary talents.
Commencing its three-phase journey, the competition started with live auditions in four key counties, namely Montserrado, Nimba, Bong, Buchanan, and Bomi.
The overarching "Step Up" theme symbolizes the competition's deep commitment to fostering growth, advancement, and pushing artistic boundaries.
The theme serves as a symbolic call for participants to enhance their capabilities, undergo transformative artistic evolution, and epitomize resilience in surmounting obstacles.
"MTN Yello Star this season has been a testament to the boundless talent within Liberia. From the riveting auditions across the counties to Saturday's Grand Finale, every step of this journey has been a revelation. We have eight truly exceptional contestants, any of them could claim the victory and be a triumph for Liberian music," said Jonathan Baker, MTN Yello Star project lead.
MTN Yello Star Season 3.0 saw audiences witnessing live eviction shows where judges Vivian Okoto, Chris Wolo, and Geno, meticulously selected 20 participants based on their prowess and potential to forge ahead in the competition, engaging in weekly performances.
Judging criteria included creativity, diction, vocal mastery, and stage presence.
The judges' evaluations carried a substantial 70% weightage, while the public's voice constituted 30% of the final vote.
As the weeks unfolded, a stipulated number of contestants gracefully exited the competition based on the judges' appraisals and the audience's preferences.
This elimination process emboldened participants to consistently elevate the quality of their performances. The journey spanned five weeks in the Y'ello Academy and now culminates in the highly anticipated Grand Finale.
"Yello Star Season 3.0 is a testament to our enduring commitment to the power of music as a means of fostering connections, transcending boundaries, and enriching lives," said Chief Marketing Officer, Abiodun Ajayi.
He added that each year Lonestar Cell MTN witnesses how music brings people together, creates moments of unity and spreads joy.
The company is dedicated to this cause not just because of the brand, but because MTN Yello Star contributes to the cultural fabric of our community and amplifies the voices of talented artists which might otherwise have gone unheard.
The Chief Marketing officer said that Lonestar Cell MTN remains extremely proud to be a part of this ongoing journey and looks forward to creating more unforgettable musical experiences for young people.
The victor of Y'ello Star Season 3 will be awarded two million Liberian Dollars (LRD), an exclusive record contract, a state-of-the-art automobile, a cash reward of 300,000 LRD, a one-year performance engagement with Lonestar Cell MTN, a one-year allotment of 100GB monthly data, and the privilege of having an original composition featured on the CRBT Platform.
Moreover, the winner will have the honor of gracing the stage at the prestigious 2023 MTN Liberia Music Awards (MLMA).
The runner-up will take home 500,000 LRD, a song contract, a one-year performance commitment with MTN, 100GB of monthly data for a year, and an original song featured on the CRBT Platform.
Stay connected with the vibrant Y'ello Star Season 3 journey by following Lonestar Cell MTN Liberia on Facebook or by joining the conversation using the hashtag, #YelloStarLIB.
Launched in 2001, Lonestar Cell MTN is the trusted mobile phone and mobile money operator in Liberia.
Its singular focus is to lead the delivery of a bold, new digital world for our customers with reliable country-wide network, partnerships with Liberia's major banks, and over nine thousand Mobile Money agents, Lonestar Cell MTN subscribers can deposit and withdraw cash, pay bills, and pay for services seamlessly.