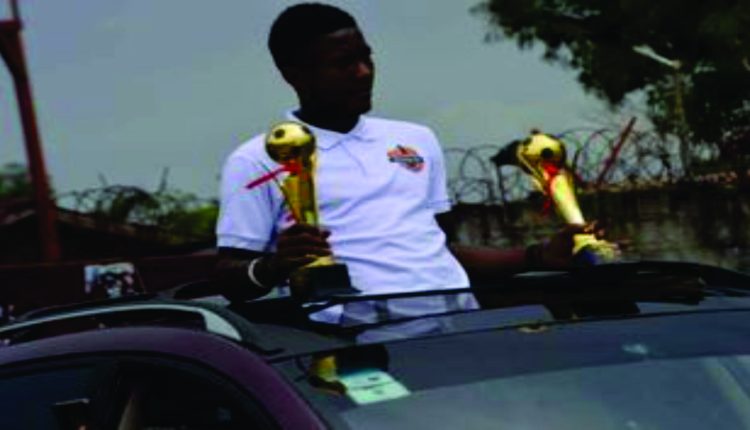 The main streets of Kakata were full of jubilation recently, as a son of Margibi County, Momo Blamo, paraded the streets to present his double accolades, scooped up during the last edition of the Liberia Football Association Awards Ceremony.
The program was held at the open-air Nancy B. Doe Sports Stadium in Kakata, Margibi County, during a league game between Margibi and Shaita Football Clubs. In the match, Shaita FC came from a goal down to edge Margibi FC 2-1. The Most Valuable Player and Golden Boot winner, Blamo, missed a goal from the penalty spot, after his team was given a penalty during the second half of the match.
Blamo won the MVP and the Golden Boot awards of the 2022- 2023 Orange National League Second Division category on Saturday, October 14, 2023, at a colorful ceremony held at the Ellen Johnson Sirleaf Ministerial Complex in Congo Town, Monrovia.
The former Bong County player topped H. Dan Weah and James Richardson of top tier clubs Paynesville FC and Global Pharma FC respectively to scoop the awards.
Blamo clinched the two awards due to his splendid performance in his debut season in the Orange National Second Division League, where he had a remarkable season, scoring 30 goals in all competitions for the club, with 29 of those goals in the league to win the Golden Boot award.
"I am overwhelmed by the love you guys have shown me and continue to show me. Thanks to the people of Margibi and Bong Counties for providing me such an opportunity to showcase my talent," said Blamo.
The MVP and Golden Boot winner added by saying "Special thanks to FC Quincy, Momo United, Feel United, and Fuamah Families. Thanks to my manager, CEO Crusor Eretha Rennie, Rep. Ellen Attoh-Wreh, EC Tony Margibi Deinuka, VP Telia Urey, and the media, for such a significant contribution to me reaching this far.
In his debut season, Blamo recorded five hat-tricks to climax the season, and scored against over 7 clubs in the competition.
Blamo's sensational goal scoring form earned him a call by Coach Ansu Keita in July, to be part of the over 25 local players called on the Senior Men's National Team of Liberia, the Lonestar.
His achievement in his debut season in the Orange National League made him the first player from Margibi County, and first player in the second top tier league of domestic football, to clinch such double accolades.
As a child, Blamo started his football journey in Margibi County, where he played for several grassroots clubs, including Momo United FC, Feel United, Fuamah FC, and FC Quincy.
Blamo has set a benchmark in the top tier league of Margibi County, the 3rd Division League, where he clinched the 2021-2022 golden boot award, scoring 17 goals for FC Quincy.
He helped the club to win the runners-up slot during the LFA-Margibi Sub-Association Third Division 2021/2022 League Season, and also gained qualification that same year to the first ever National Third Division Regional and Promotional Playoffs held in Buchanan, Grand Bassa County.
He again became the club's highest goal scorer at the Buchanan, Grand Bassa County National Third Division Regional and Promotional Playoffs.
His success during that period moved him to the Orange National League-2nd Division, with him joining Shaita FC (Tony FC) for an undisclosed fee from Quincy FC, during the transfer window of the 2022/2023 League Season.
During his debut season for Shaita FC (formerly Tony FC), he made his name on the domestic scene by becoming the first player in the second top tier league of domestic football to register 30 goals in 26 appearances for the club in all competitions.
He finished the league as the top goal scorer, netting 29 league goals in 25 appearances.
He recorded five hattricks to climax the 2022/2023 Orange National League-2nd Division, scoring against over seven clubs in the league.
Margibi FC and Sinoe NPA Anchors are among the few clubs that Blamo failed to score against in his debut season, despite playing in both legs.
Blamo's individual achievement started since childhood days in Margibi County. He won the golden boot award in a high school league during his days with Lango Lippaye High School, under the sponsorship of the YMCA.
Blamo won back-to-back golden boot awards in the first and second editions of the second most traditional Margibian festival, the Margibi Inter District League.
Apart from playing football, Blamo got his secondary education diploma from St. Augustine Episcopal High School in Kakata, Margibi County, where he played active football for the school.
In addition, he is a certified coach, having served as head coach of Prosper FC, a third division club in Kakata, Margibi County.
As a way of giving back to society, Blamo has been reaching out to several clubs across the county, including academies and all-stars, among others, where he provided cash, jerseys, and football, among others.
Blamo is not just a footballer but also has passion for Liberian traditional sports -kickball.
He was instrumental in making sure that players performing greatly during games be awarded cash prizes or certificates as "Queen of the Match" during the just ended 2022/2023 LKF- Margibi Sub-Association's Third Division League.
At the same time, the MVP and Golden Boot winner currently serves as Vice president for Weala-based third division Kickball Club, Future Girls.
Blamo won second and third place medals for Margibi County in the nation's most watched sporting festival, the National County Sports Meet.
He featured for Bong County once, after being left out by Margibi County football team.
At the moment, Blamo has not been at his best form for club, evidenced by his failure to find the back of the net in his last three games, a drop in his usually high standards.
With his 7 goals for the club so far in his seven games played, he is the club's highest goal scorer and sits in third place on the top goal scorer chart of the Orange National League-2nd Division.
He is the first player to register a hattrick in the 2023/2024 Orange National League.
Blamo has recorded two hattricks since the start of the new season, with his first coming on September 10 at home, in his team's opening fixture against old customer, PAGS FC, with his hattrick giving the Careysburg club a convincing 3-1 win over PAGS FC.