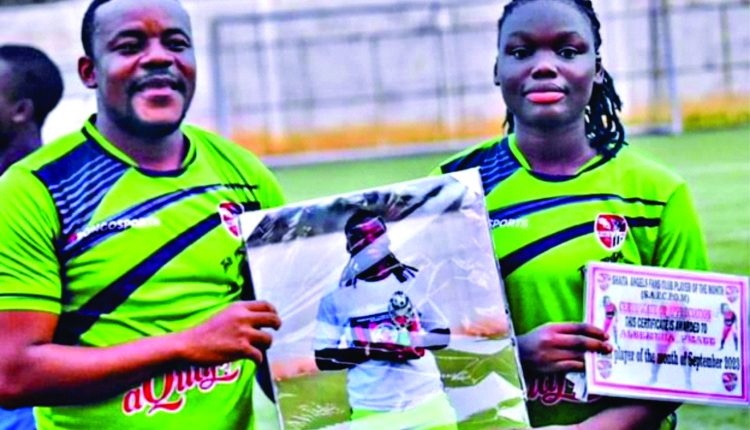 Promising Liberia female goalkeeper, Alberta Pratt, has won the Shaita Angels' Best Player of the Month of September award, following her brilliant performances throughout the month.
Young Alberta Pratt kept three straight clean sheets in Shaita Angels' three opening league games that saw the Angels at the top of the League table for the very first time, since their establishment a few years ago.
Pratt guided her side to another victory over the weekend, and kept her fourth clean sheet this season with the Careysburg female giants.
The young and talented female goalkeeper received the award in front of her family on Sunday afternoon, after their 3-0 victory over Stages Queens on match day four of the Orange Women's Upper League.
She was heavily praised by Club President, Benita Urey, for her outstanding performance with the club.
Miss Urey described Pratt as one of the promising talents that Liberia can look up to when the needed time arrives.
"Alberta Pratt has all the abilities as a female goalkeeper and she is gaining the trust of football lovers in Liberia. She has the ability of good blocking and deflecting technique, the ability to play with her feet, and a good movement of positioning in front of goal," she said.
"We at Shaita Angels are blessed to have such a great and promising female goalkeeper as our goalkeeper, and I must admit that the coaches are doing well in helping her improve. But by the way, it's not a surprise to me because at Shaita Angels, we develop a player and that player becomes a better person," Urey added.
Pratt kept her first clean sheet with Shaita on match day one at the Tusa Field, where Shaita outplayed experienced Blanco FC, recording a 0-6 victory, and the second was during her side's goalless draw with Senior Female Professionals on match day two, at the George Weah Technical Center in Careysburg.
She put up an exceptional performance against Soccer Ambassador on match day three, making four brilliant saves and keeping her third clean sheet in a row.
Before receiving the award on Sunday afternoon, Young Pratt was excellent between the sticks, during her side's 3-0 victory over Stages Queens on match day four.
With a good start to her Shaita Angels journey, many believe that Pratt needs to maintain her current form to gain an invitation to the Liberia Women's National Team. Pratt needs just seven more clean sheets to equalize the number of clean sheets the Ambassador FC goalkeeper kept that landed her the best goalkeeper award by the Liberia Football Association.