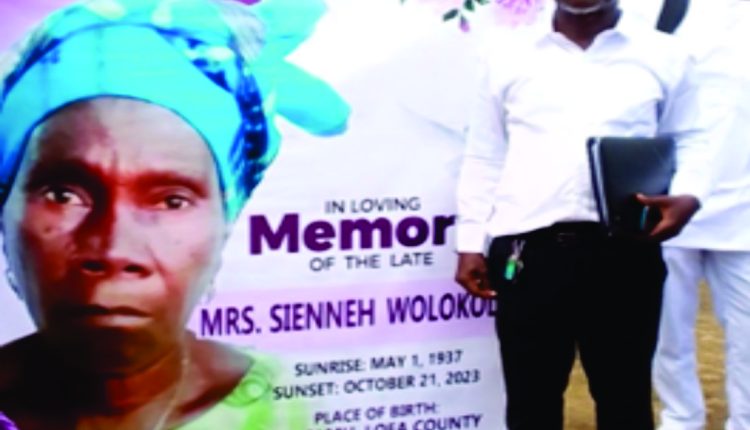 Former NEC official, John Freeman Zurbah, has lost his mother, Ma Sienneh Jayhay Wolokolie, at age 86.
The funeral service was at the St. Matthew Lutheran Church, Redlight Market, Paynesville.
Her body was displayed, lying in a casket, for viewing, before the main parts of the funeral program, the opposite of what is done in many Churches – body viewing – made the final stage of the program.
Mother Wolokolie was born on May 1, 1937 in Lofa County, and died on October 21, 2023.
Her eldest son, John Freeman Zurbah, worked at LAMCO before the Liberian civil war and at the National Elections Commission (NEC) of Liberia in post-civil war time.
At NEC, he occupied many positions. Two of them are: Administrative Assistant and Performance Manager.
During Liberia's civil war, Zurbah fled to Ghana and lived in Ghana's refugee camp, named Buduburam, in the Central Region for Liberians.
He taught Geography at the Senior High Division of the refuge camp's school, named Buduburam Community Senior Secondary School, popularly called BUDUSEC. The writer of his story was one of his students.
Zurbah also taught Business Management at the refugee camp's vocational school, sponsored by the United Nations High Commission for Refugees (UNHCR) and the International Rescue Committee (IRC).
The school was supervised by the host government (Ghana)
He returned to his motherland years later to contribute to the development of his post-war country, through his academic and technical knowledge.
One of them was Rev. Alloycious Kpadeh, Pastor of Christian Inter-Denominational Assembly (CHRIDA), which was the first Church on Ghana's refugee camp, founded in 1990.
"Our mother, grandmother, and great-grandmother, went through emotionally shocking trauma of the Liberian civil war in a long time.
One of her children was murdered by armed persons in her presence," the deceased's grandson, Daniel F. Zurbah, said during funeral discourse.
The funeral event was spiced with a "Lorma" (or "Gbandi") song by a group of six persons; five elderly women and one man while the mortal remains of Mother Wolokolie was taken to her ancestral home, Lofa County, for burial.