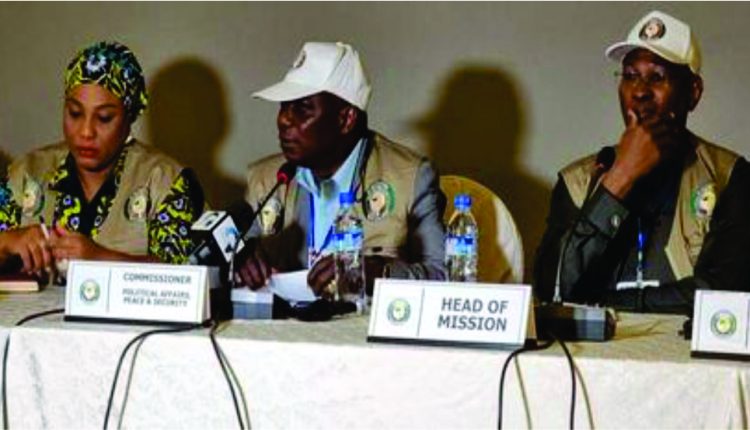 By S. Siapha Mulbah
The Economic Community of West African States (ECOWAS) Election Observation Mission to Liberia, during the November 14 Presidential run-off, cautioned the political party actors and the National Elections Commission to work within the confines of prioritizing the peace of the nation, in line with appropriate measures to ensure that the final results of the runoff reflect the true will of the citizens.
In a preliminary report released yesterday in Monrovia, the head of the Mission, Attahiru Jega, appealed to stakeholders, particularly the political parties, candidates, and their supporters, to remain calm and patiently wait for the official declaration of results by the National Elections Commission.
The Mission called on the National Elections Commission to diligently work to ensure the timely and transparent release of results, to consolidate the enviable gains made in the handling of the October 10, 2023 General Elections in a way that will ensure the stability of the country.
"Similarly, the Mission urges the candidates, their political alliances, and supporters, to be guided by the spirit of national unity, peace, and adhere to the expressed commitment made within the framework of the revised Farmington River Declaration. In this regard, the Mission appeals to all stakeholders to refrain from any acts of incitement that would undermine the peace," Professor Jega asserted.
He also called on all security agents to maintain professionalism in the execution of their duties for the maintenance of order in the country.
Committing the Mission's will to continuously monitor the concluding phases of the electoral process in particular, the tabulation and transmission of results from the counties, and their aggregation at the national level, he said "The Mission also urges the winners of the polls to remain magnanimous in their victory and to be graciously conciliatory to forestall any breaches of the peace in order to maintain stability in the country."
However, the Head of the ECOWAS Observation Mission noted that the electoral process exposed the Liberian society as sharply divided, which requires urgent steps to foster greater inclusivity in governance, social cohesion, and national unity, by whoever emerges victorious in the run-off election.