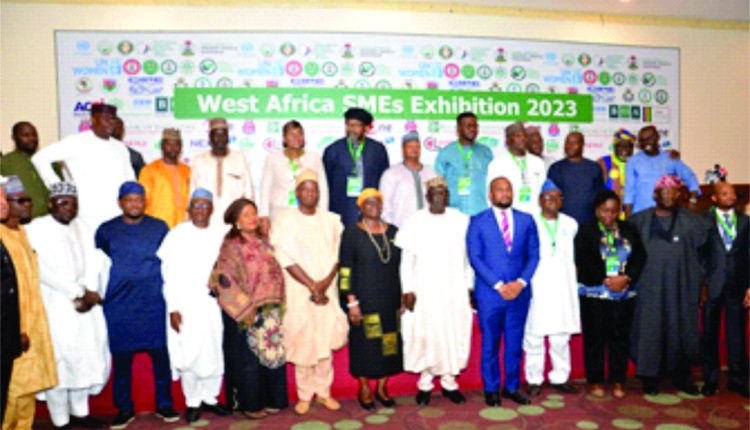 The ECOWAS Commission, in partnership with the Nigeria Association of Small and Medium Enterprises (NASME), successfully organized the ECOWAS SME Partnership Conference and Exhibition.
This extraordinary gathering, meticulously organized within the context of the implementation of the ECOWAS MSME Charter 2021-2030 and Private Sector Development Strategy, served as a pivotal platform for SME and SMI development and promotion stakeholders to collaborate and identify pragmatic modalities to support the growth and proliferation of MSMEs in the region. Specifically, modalities for the establishment of the Regional Small Business Coalition (RSBC) as a coordinating and apex regional MSME platform and the Regional Small Business Development Partnership Platform (RSBD-PP) which operates to mobilize and channel partner support for MSMEs were set in motion by the establishment of Technical Working Groups to work towards the establishment of the respective platforms.
Speaking on behalf of the Deputy Speaker of the Nigerian House of Representatives, Benjamin Kalu, James Shaibu Barka, Chairman of the House Committee on Commerce, emphasized the indisputable importance of SMEs in both developed and developing nations worldwide.
He underscored the National Assembly's unwavering commitment to legislating policies that foster a conducive environment for SMEs in Nigeria.
He also lauded the organizers for the initiative, noting that it will certainly propel SME growth and development throughout the region.
In a resonant address, the Minister of Industry, Trade and Investment, of Nigeria, Doris Nkiruka Uzoka-Anite, represented by the DG of SMEDAN emphasized the Ministry's dedication to the theme of SME 4.0.
This theme prioritizes the enhancement of quality, productivity, competitiveness, resilience, and sustainability in tandem with the digital transformation era.
Mrs Uzoka-Anite, whose speech was eloquently delivered by her aide, articulated the Ministry's commitment to ushering MSMEs into the digital age by providing them with indispensable tools and knowledge to navigate the ever-evolving business landscape.
She further revealed the launch of a dedicated N1 Billion fund each for youth and women enterprises nationwide.
The Commissioner for Economic Affairs and Agriculture at the ECOWAS Commission, Massandje Toure-Litse reported progress made by the Commission in the development of regional policies and regulations, as well as the facilitation of a conducive environment for the growth and prosperity of small and medium-sized enterprises (SMEs) within the sub-region.
She highlighted that these accomplishments encompass a wide range of areas, such as enterprise education, regional collaborations, regulatory enhancements, promotion of specialized development corridors, and crucial financial assistance for small and medium-sized enterprises the region.
Mrs Toure-Litse urged all participants to familiarize themselves with the ECOWAS SME Charter 2021-2030, emphasizing its extensive provisions that are specifically designed to foster the growth and advancement of small and medium-sized enterprises (SMEs).