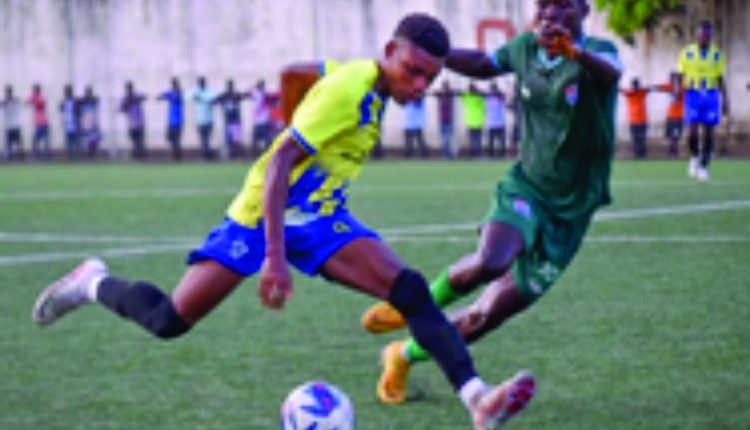 The Gardnersville derby in the Liberia Football Association National Second Division League between Discoveries Sports Academy (DSA) and Gardnersville Football Club presented a scene of dramatic expressions with an incredible football display.
At the Tusa Sports Pitch, during the late evening hours of Tuesday, October 24, 2023, the neighbors engaged in their first derby to claim bragging rights over the territory with high spirits, but at the end of the showpiece, the 'Legacy Boys' of Discoveries fell to a depressing 3-2 defeat at the hands of Gardnersville FC in their own back yard.
At the start of the encounter, DSA pushed their opponents with an early force and pressure that worked out, taking an early 2-0 lead. A coordination between Saah Moses, Cephus Gebro, and Johnathan Freeman, in the mid stages of the first half, resulted into a 30th minute goal scored by Cephus Gebro, with Johnathan Freeman doubling his side's advantage in the 36th minute.
With the early 2-0 deficit, the Senator Boys of Gardnersville FC recalibrated with countering tactics to overturn the result, with players like Alusine Shakar and others creating more scoring chances for Theo Williams, whose name was screamed from the stands of the stadium by many spectators as their hope of making their dreams come to reality.
Coach Mutarr Fofana, on his heels, demanded more pressure from his side in their search for results, but Discoveries' performance became unpredictable, as both teams fought for more width and possession. The drama intensified as one side of the stadium celebrated the song that was sung for DSA.
On 41 minutes, still in the first half, a magical free-kick from across the ark of the 18-yard box from Theo Williams escaped the heads of those in a five-man wall built by goalkeeper Elijah Kumeh, shaking the net for Gardnersville FC to pull a goal back.
Gardnersville FC leveled the score line in the 4th of the six added minutes announced by the central referee. Amara Kamara hit the equalizer just before the break to put his side level at the recess.
The derby was decided in the 51st minute, when Theo Williams confidently drove through the defense of the 'Legacy Boys', getting his brace to secure all three points for Coach Fofana and his team, to move one step upward on the league table and break DSA hearts.