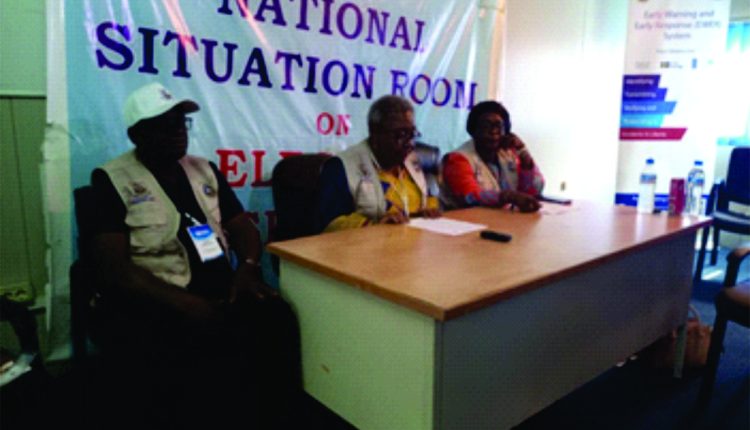 By Grace Q. Bryant
The Election Monitoring and Violence Prevention Situation Room has frowned at political parties for claiming self-victory in the just-ended November 14 election without the National Elections Commission announcing results.
Speaking with reporters Wednesday, November 15, in Monrovia, CEMViP Chairperson, Marjohn Kamara, said, "It has come to the attention of the situation room that some partisans of both CDC and UP are involved in early jubilation, claiming victory."
According to Amb. Kamara, the act of the two parties will not help anyone and can only undermine the achievement of democratic and peaceful elections in Liberia.
"The Situation Room reiterates emphatically that only the National Elections Commission (NEC) has the constitutional authority to announce the official results of the election. Political parties must refrain from early announcement of the results," Amb. Kamara said.
The CEMViP Chairperson explained that the Situation Room remains active and is open to observe, verify, and clarify any allegations and/or information received.
Meanwhile, Amb. Kamara applauded the citizens of Liberia for the peaceful manner in which they conducted themselves on election day, encouraging all citizens and residents to maintain this level of peacefulness.
"Earlier, on the night of November 14, 2023, in Pleebo, Maryland County, the Chairman of the Coalition for Democratic Change (CDC), along with over 20 disadvantaged youths armed with knives, sticks, and cutlasses, instructed everyone to leave the streets due to a self-imposed curfew," CEMViP Chairperson narrated.
The Ambassador noted that due to the incident, supporters of the Unity Party (UP) opposed them, resulting in the injury of three motorcyclists and a woman.
Amb. Kamara said that the Situation Room Field Monitor located in Pleebo, contacted the Liberia National Police (LNP), who then deployed additional security officers to resolve the issue.
The Ambassador called on all political parties to refrain from early announcements of the results.
She urged all citizens to make use of their call center on the short code number 2266, for both MTN and Orange, to report any electoral incident.
The CEMViP Chairperson added that the work of the Election Monitoring and Violence Prevention Situation Room is enabled through funding and technical support provided by the Governments of Sweden and Ireland, the European Union, ECOWAS, the UNDP, and IOM.
However, the statements, opinions, and activities of the Situation Room do not reflect the opinions of the donors and supporters, and are solely owned by the Situation Room's analytical and decision-making structures.