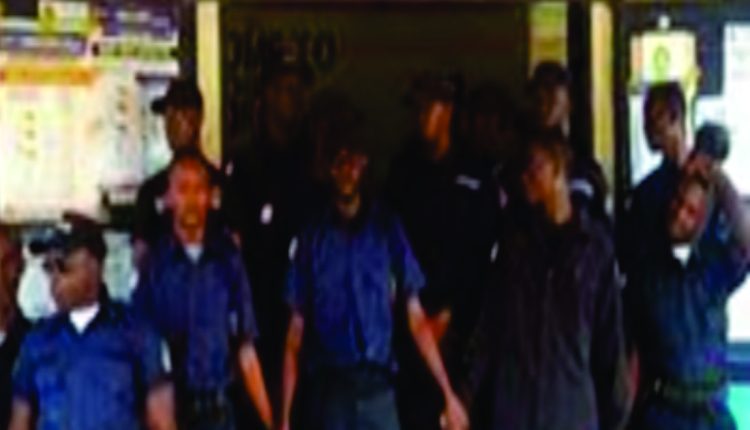 Police has arrested a 42 years old Ghanaian for allegedly attempting to hacked elections results.
Defendant Sunson Essien is believed to be trained Information and Communications Technology Scientist in River Gee County.
According to Police charged sheet, defendant Essien was hired by Unity Party (UP) to conduct an intensive training for UP's poll supervisors and watchers for the ensuing November 14, presidential run-off election.
Following preliminary investigation, it was established that defendant Essien, was seen in possession of several sophisticated gadgets that could be used to triple election results on voting day of next Tuesday.
He was charged for crime of Attempted Hacking"; a situation that prevented him from conducting the UP's poll supervisors and watchers training in Fish Town City.
The arrest was made on Wednesday Nov. 8, along the Nyannyanken junction, River Gee and forwarded to the Fish Town Police headquarters for further adjudication.
Meanwhile, in a report compiled by Ben Brooks, an Internews/PAL Elections fellow, the 2023's Presidential and Legislative elections progressive tally results of the first-round showed that invalid votes have increased as compared to previous elections in River Gee County.
As votes count concludes in the first round of October 10 presidential and legislative elections, many have expressed concerns about the high numbers of invalid votes received from all 98 polling places in River Gee County.
According to Tally-Sheets released by the Magistrate office of the National Elections Commission in our possession, the numbers of invalid votes obtained in these October 10 polls were by far higher than the number of votes received by some candidates in the districts and county at large.
Despite these concerns and the criticisms, the National Elections Commission should be gearing up for a second round of vote taking constitutionally as none of the presidential candidate reached the mark of 50% plus 1 vote with a resolve to improve the situation.
The county's Election Magistrate, Moses Nyenatoh, admitted that this marked the first highest numbers of invalid votes cast in the history of elections held in the county.
During the April-May 2023 phase two of the biometric voter registration (BVR), River Gee registered a total number of 37,807 eligible voters from 56 voter registration centers.
Of the total number, 29,712 that turned out to vote on October 10 at the total 98 polling places, a total of 27,366 of the ballots were declared valid while a total of 2,346 were announced as invalid across the county.
Of the total number of 2,346 invalid votes marked from the 3 electoral districts of River Gee, District 1 recorded a total of 872 from 17 polling precincts, while District 2 had 681 from 14 precincts and electoral District 3 recorded a total of 793 out of 25 precincts respectively.
However, in most of the voting precincts our reporter visited showed more turnout of women and first-time voters which were also peaceful.
However, the National Elections Commission local office have expressed concern that they will work to address the issue in next elections.
The local office has resolved to tackle this problem, despite they were unable to ascertain why the number of invalid votes were increased.
The Civil Society Council of Liberia, River Gee Chapter Coordinator, Abu Dillo, said most of the invalid votes were invalidated because there were more than one marks.
He added upon reviewing the invalid votes, it was observed that most of the ballots were deemed invalid because there were multiple marks. Some of the ticks were doubled, and at times, there was an additional mark or ridge on the ballot papers."
"Another issue observed was the inconsistency in practices used by different voting centers. While a vote might be invalid in one center because the mark is outside the allocated box, another center may accept the vote as long as it does not cross into the box allocated for the other candidate. Some centers deemed ballot papers invalid if the tick went even slightly out of the box," said Dillo
These concerns were also raised by some candidates and political party observers who noted that the inconsistency in practices across different voting precincts in River Gee were caused by some heads of polling staff whom they alleged had influence to change valid votes into invalid ones.
A CPP observer assigned to Tarwoken Public school, prescient code 42025 electoral District 3, alleged that several of her former Representative candidate's votes were counted invalid based on the influence of the Presiding Officer whose name she refused to disclosed.
"There were many invalid votes counted from the NEC polling room I was assigned in. If the PO sees a little crossing mark from inside the box of any of the candidates, she can pronounce it as invalid vote and many of my colleague observers were in support of her decision," the CPP observer told the press.
Also speaking, Presiding Officer, George Weay who was assigned to Agriculture building Fish-Town, electoral District 2 noted that many of the invalid votes were caused by mainly first-time voters and the elderly.
He said most of the first-time voters and older people found it difficult behind the screen to mark who they wanted to vote.
Meanwhile, first time voter Partrick Wah, age 19, at the District 1 Dweken Town Hall with precinct code 42003 told our reporter that he never had any idea of voting.
"Uncle, to tell you the truth, I don't know how to vote because I never came across anybody to tell me or teach me the process of voting. I am told that only you alone going behind certain thing to choose the candidates you want, but how will I do that? Maybe from here I need to ask my older sister in the house who came from voting this morning to give me small idea before I enter to vote because I don't want to spoil my vote," Wah admitted.
Also speaking, 72 years old ma Lucy Wesseh, told our reporter that she got confused when she got behind the cloth to vote confessing, "I was confused looking for the person my son told me to mark but I could not see clearly on the paper so I did my own thing. Next time I will not waste my time to say I coming here to vote again."
Many who spoke to the press in the county blamed the National Elections Commission for increased invalid votes stating that civic awareness on the voting process was never created to inform voters how to cast their ballot.
Although the National Elections Commission by her policy should have conducted civic voter awareness before voting day but many said even if it was conducted, that was not filtered down to the rural parts of the country.
According to National Elections Commission Policy Paper No. 7, the NEC's role in Civic and Voter Education campaigns is necessary to ensure an informed community so that citizens can effectively exercise their suffrage because voter education programs provide public information on the electoral issues that are necessary for eligible citizens to effectively participate in an electoral process.
Typically, voter education focusses on where, when and how citizens can register to vote; how they can check their entry on the register, how to identify the place at which they will vote and the correct method to mark the ballot paper, among other things.